"Jonathan Vaughters intronisé par l'Echansonnerie des Papes" 08/2009

L'Ancien coureur cycliste Jonathan Vaughters, aujourd'hui manager de l'équipe Garmin-Slipstream a fait un détour par Châteauneuf du Pape, la veille de l'ascencion du célébre Mont Ventoux, et y a été intronisé par notre confrérie l'Echansonnerie des Papes.

Le Wine Spectator a mis l'article suivant à la Une de son site :


A Tour de France Coach Makes a Detour to Châteauneuf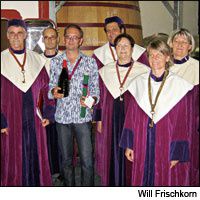 We thought California was the only place everyone wanted to earn "cult wine" status.
• This past Sunday, the 96th Tour de France rolled down the Champs-Élysées in Paris. (Alberto Contador won while Lance Armstrong, unretired at 37 years young, placed third.) But the most formidable stage was held the day before, on the slopes of Mont Ventoux, the massive mountain of Provençe. For team Garmin-Slipstream coach Jonathan Vaughters, the stage held special meaning. Vaughters himself enjoyed his greatest victory as a cyclist on Ventoux, winning the climb during the 1999 Dauphiné Libéré race. It also happens to be a short drive from his favorite wine region—Châteauneuf-du-Pape. When a group of Châteauneuf winemakers saw Vaughters' recent interview with Wine Spectator, they extended him a special invitation. Vaughters gave Unfiltered his exclusive account:


"July 24, I was inducted into L'Echansonnerie des Papes, roughly translated as 'the keyholders of Châteauneuf-du-Pape.' From what I've read, the honor is normally reserved for the elite of the food-and-wine world and not for overly enthusiastic lovers of CdP such as myself. But it seems my history with professional cycling in this area was well-remembered by the local winemakers and when a little article in
Wine Spectator
mentioned how much I loved CdP, Michel Blanc, director of the local wine federation and a member of the Echansonnerie, called up and asked if I'd have the time to be inducted during this year's Tour de France. Of course! Domaine de Marcoux was having a cellar opening that evening, so my induction was going to be quite the who's who of the Papes. Mark Fincham and his lovely wife,
Laurence Féraud
of Domaine du Pégaü, greeted me, sisters Sophie and Catherine Armenier of Marcoux were very hospitable, and
Raymond Usseglio
had quite a few stories of the Tour de France back in the day. It was all fun and games until they started putting on purple robes. First I had to chant various items in French, which proved challenging after all the 'tasting' I'd been doing. But the hammer really dropped when they asked me to blind taste three wines—a Côtes du Rhône, a Côtes du Ventoux and a Châteauneuf-du-Pape. If I failed to pick out the CdP, no brotherhood, no key, no title, no purple robe. Blind tasting is one thing with your buddies, quite another in front of 200 people. I did it. The crowd roared. It meant more to me than the Tour de France in some ways. It's nice to win something as an amateur once in a while. And so I was presented with the key to Châteaneuf-du-Pape. How cool is that?" In Unfiltered's opinion,
very
cool.